As a concept, Continuous Integration or CI means not building different parts of your design in isolation but continuously integrating them together. This will avoid a lengthy and unpredictable integration and debug task later in the project. With the complexity of modern software and FPGA development, it is increasingly important to embrace the efficiencies of current best practice, which includes the use of CI.
Whether you have already have experience of CI or are new to its benefits, getting a fully featured CI solution up and running takes times. Of course, this investment will be repaid many times over through design and verification efficiency and quality improvements but wouldn't it be great if you could put less in and get more out!
At ITDev we have been using CI for many years. With the large number of projects that we work on, it made sense for us to make the process of deploying new CI environments as quick and efficient as possible.
We have achieved this through a combination of pre-existing open source tools, some of our own enhancements that we have contributed back to the open source community and our own library of templates and configurations.
We are now pleased to offer this rapid deployment CI as a standalone service, which includes:
Consultation on best choice of tools
Rapid deployment of chosen options to local or remote server(s)
Handover training
Ongoing support options
A CI environment similar to those typically supplied by ITDev might take a month or more for a CI engineer to deploy. However, by using our approach, we can deliver a solution in less than two weeks. This includes spending time with you to understand your requirements, customising the environment for your needs, getting everything up and running at your site and training you in how to operate and maintain it.
Our standard CI environments already have tools and jobs configured for: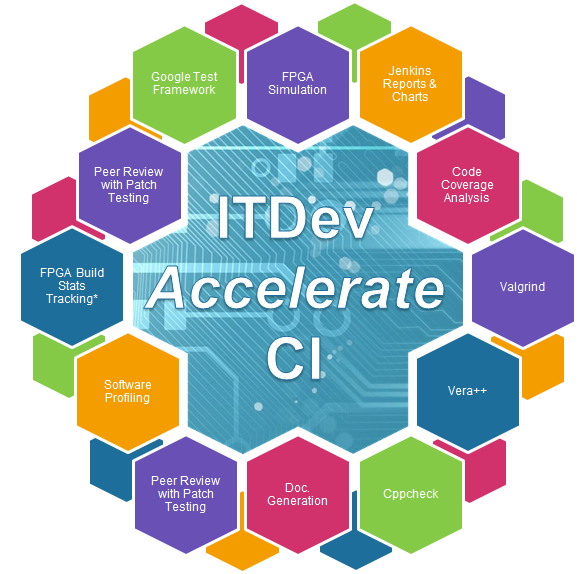 As well as pure software-based testing, we have plenty of experience of implementing real-world tests using a variety of test equipment and automation approaches.
This means that for embedded products, we can not only generate builds but we can deploy them to your hardware and verify them on the target platform using real time inputs and outputs.
ITDev's CI Kick-Start Service: FAQs
How much will this cost?
We quote each project based on its requirements. We'll let you know all costs up front, so there'll be no nasty surprises.
Are there any on-going costs?
There are no licence fees for anything we provide. We do offer on-going support for a fee but this is optional.
Are you charging for free software?
No. We're primarily providing a service. This includes advice, customisation and installation of a highly featured CI solution to fit your exact requirements. We deliver this efficiently through our understanding of the available tools (open source and commercial), plus our library of proprietary templates and configurations.
What good is a test framework without any tests?
Good question! Some people (of our clients?) already have their own tests, others will be starting a project and won't have the code the test yet. If you would like us to create tests for you, just let us know and we'll be happy to provide a quote.
How is this solution delivered?
We often deliver solutions as one or more virtual machines. We can work with your IT team to run it on new or existing hardware, or in the cloud. We can then integrate it with your existing authentication systems such as LDAP or Active Directory.
Find out more
To find out more details on the Accelerate CI service contact us at sales@itdev.co.uk or call us on 023 80 988 890.
ITDev's CI Tools and Flows workshops
If you're interested in hearing more about how CI could assist your business, ITDev has a Continuous Integration Interest Group and run 2 workshops to date.
Information about and content from our CI workshops can be found here.

And if you'd like to read more on CI, ITDev's Engineering Director, Andy Culmer, has written the following blog.