News posted 9th August 2022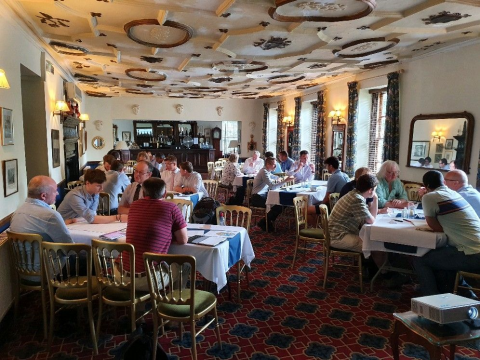 The TechNES FPGA Front Runners events are a good opportunity for industry to get together and discuss common challenges, hear from industry experts and get the latest updates from vendors and suppliers.
The most recent event was held last month at the Moat House Hotel in Tamworth and ITDev were represented by Tom and Aysa. Here's their summary of the day:
Steve Drew, TechNES Director, introduced the day and split the attendees into groups for round table discussions on the topics of Open Source IP, future topics, challenges, and FPGA graduates. In Steve's typical ebullient style he'd named the groups: Ghostbusters, Thundercats, The Mystery Machine, Transformers, Masters of the Universe, and Teenage Mutant Ninja Turtles. The group names created a nice ice-breaker for the tables to get the discussions started.
After the reminiscing and debates on who would win a group battle, the groups were given the chance to feedback on their discussions. Open source IP raised the question on sourcing and certification, a topic for the next event in October. Challenges highlighted the changing market in device availability, which provided a nice introduction to the afternoon presentation from Gowin Semiconductor and their portfolio of devices.
With the shortage in engineers and the lack of awareness around FPGAs from students, questions were asked about what needs to be done. It was agreed to survey members to understand what their requirement was, with the possibility of facilitating an FPGA course, similar to the TechNES Academy course on Design Verification. We're looking forward to seeing the results from this and how a course could benefit our future graduates.
One particularly interesting session for our engineers was the introduction from Gowin Semiconductor and their range of pin compatible, alternative devices to the traditional FPGA providers. We're planning to look at these devices in more detail to see what is on offer and how they perform. With this aim we've already sourced a Gowin dev board kit to start the familiarisation.
Similarly, an introduction to component distributor WPG was useful as an alternative supplier given the challenges in component availability at the moment.
As always with TechWorks events, the networking opportunities were useful. Getting to meet industry peers and share stories helps with that feeling of "I'm not alone with this".
There were also presentations from Dirk Koch of Manchester University on their "FABulous" open source FPGA programme; Neil Dickens from IC Resources; and Piyush Sukhija from Synopsys.
We're looking forward to the next event in October at Rolls-Royce, Solihull, where ITDev will be exhibiting and you can discuss some of the FPGA projects we've been involved in.
If you have an FPGA, embedded software, or product development challenge, come talk to us at the event or Contact Us for a free, no obligation discussion.
Event photo courtesy of Steve Drew, TechNES Director.