At ITDev, we would have to agree with the old saying "work hard, play hard". The rest of this site is dedicated to our work, so we thought it only fitting that we should have a page dedicated to play!
ITDev employees take part in a wide range of sporting activities. We organise a weekly cycle in the New Forest and a weekly game of 5-a-side football. We also arrange climbing trips, dry slope skiing, rollerblading and kayaking. The activities that we organise are generally open to all, and we are regularly joined by customers and friends.
ITDev hosts two annual social events, for employees and their families. These are the summer barbecue and the Christmas party. The Christmas party is usually held over a weekend, in a hotel, at the company's expense.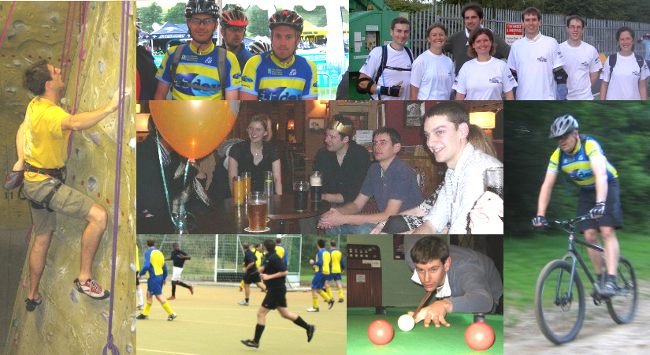 Images, clockwise from top left:
Indoor climbing at St. Mary's Leisure Centre
Waiting to race at Mountain Mayhem 2009
Southampton Euroblade rollerblading event
Cycling in The New Forest
Relaxing with a game of pool
Football with clients
Christmas party (Middle)