Posted 13th September 2019, By Orianne T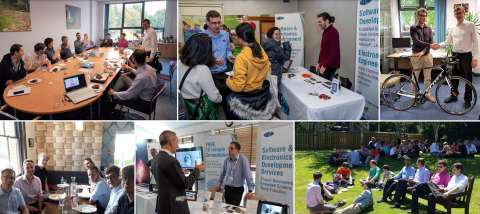 Our Values: Why
Here at ITDev, our company inception is well-known: Bruce Mitchell, a Computer Science graduate from the University of Southampton founded ITDev in 2000. Then in 2005 Andy Culmer, an Electrical & Electronic Engineering graduate from Imperial College London, joined as ITDev's Engineering Director. Both Bruce and Andy shared common ground: they had ambitions for ITDev to grow and develop but they wanted ITDev's journey and for those joining them, to be a 'happy' one.
What isn't so well-known is how ITDev's company values came about. Early in 2013, Bruce and Andy attended a company networking event in Southampton organised by Shirlaws, where a senior manager from Chemistry spoke about the importance of 'values' within a business. The presentation resonated with both Bruce and Andy.
'I followed up the presentation with a site visit to Chemistry to see how their values impact on their business.' says Andy 'I could see the positive impact straightaway so after discussing this further with Bruce, we decided to ask the ITDev team for their input and to come up with our own set of values.'
'It made complete sense to us.'  explains Bruce 'I always had the aim of 'doing that little bit extra' for our clients and to make our clients feel valued; we aim to deliver on time with 100% customer satisfaction and if we can, to exceed expectations. Having a set of values to formalise how we treat our clients as well as how we look after our staff, was obviously the right thing to do.'
What
Following the networking event, Bruce and Andy asked the team (then around 10 employees) to think about 'what 'great' looks like'. 'The team brainstormed over a series of meetings to come up with words and phrases with answers to that question.
'This generated lots of post-it notes which covered the office walls!' says Andy 'There was a wide range of suggestions from keeping to deadlines, delivering on commitments, supporting team members, taking on responsibilities to working together as a team.'
The next iteration was to distill these sentences into words which, after being presented back to the team, then became ITDev's company Values: Empathy, Trust, Considered, Passionate and Smart. These still stand today with many of the words in the image below being taken from that original brainstorm.

To underline the importance of our values within the business, we've created a Values card reward system: staff are encouraged to nominate team members who display our values either internally or externally. During our monthly company meeting, two staff names are pulled out of a hat and rewarded with a gift. We listen to our staff and have a number of internal feedback systems, from a Weekly Poll to gather office sentiment, to an anonymous suggestion box. Bruce can often be seen walking round the office, asking for opinions. We also use internal surveys to collect thoughts on business develpments such as our recent office reorganisation to accomodate new staff. 
So what does this mean to our clients and staff?
Engaging with clients
Our values drive our decision making, the way we work and our relationships with our clients, suppliers and peers. They were the inspiration for our company strapline 'Values driven engineering'.
During the first engagement with a new client when we give our company presentation, we explain how our values drive our business and impact on how we will work together.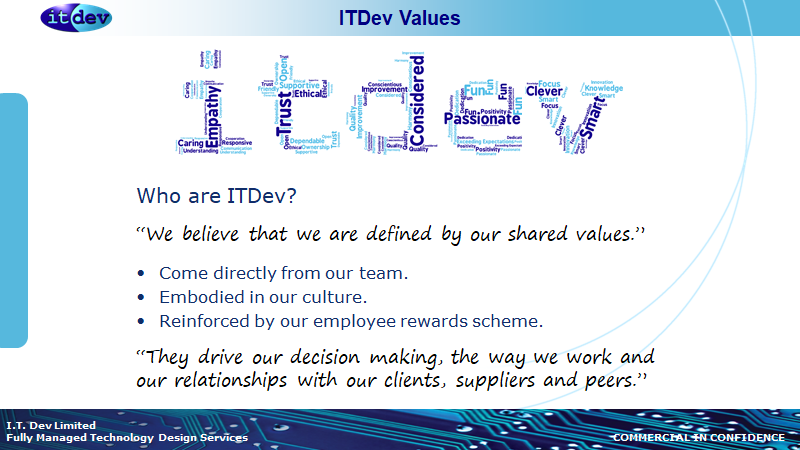 We have a team of motivated, empowered employees who are dependable, open, conscientious, passionate about their work and not shy to innovate or provide feedback. They act in a smart manner to bring value to our clients. We prefer to plan to have more than one member of staff on any project to ensure design and review independence. This also enables us to offer contingency on any staff member being out of the office or leaving - and with them the knowledge of a project. We like to build strong relationships with our clients and earn their trust, as evidenced by our testimonials. Over the years, we've had clients who have been able to come back to us after periods away and we're able to provide support with knowledge on their products, which is clearly valuable to them.
Benefits for our staff
As well as building relationships with our clients, we also focus on building relationships with our staff. We want staff to feel they have a long-term career with us, where they can develop and take on new responsibilities. It's great to see staff, who joined us as graduates, and who are now department managers, leading their own teams. We empower staff to comment and make suggestions across the business - resulting in a business which is free from traditional company hierarchy. Our active sports and social calendar means we get together regularly outside of work, having fun and strengthening our understanding of each other.
With the current focus on mental health and flexible working hours, ITDev was ahead of the game with core working hours being introduced in 2005. This gives staff the flexibility to fit work around life:
'I do love working here due to the flexible work hours which is great when one has a young family.' explains Steven, Senior Software Engineer
Moreover, with the current challenges facing the sector in recruiting and retaining excellent engineering staff, we believe our business culture is key to this.
'I truly believe that ITDev lives out the company values; they're not just words on paper. Our values reflect how we as a company want to behave and do business. It's great to be part of a company that not only states these values, but lives these too.' says Ross, Quality Manager and Senior Software Consultant
Aysa, Senior Electronics Design Engineer, adds:
'The company culture and positive values promote a feeling of unity among staff where people are able to lean on each other to get the job done.'
The end result
Taking all things into consideration, we're pretty proud of our business culture at ITDev, the result of which is summed up nicely by one of our valued clients:
'We have used ITDev for many years, and given the opportunity, will use them again. They are always very professional and equally as important, they are friendly and helpful. Other outsource companies I have used could learn lessons from them.' MediaKind
How ITDev Can Help
As a provider of software and electronics design services, we are often approached by clients looking to resolve design challenges. These vary from supplementing a clients existing team with more resource to providing expert knowledge on a topic, where the client lacks experience or domain knowledge. Our multi-disciplinary team bring the benefit of an understanding of both hardware and software, combined with experiences in system design, means we are also able to provide architectural advice.
Initial discussions are always free of charge, so if you have any questions, or would like to find out more, email us.