News posted 25th September 2009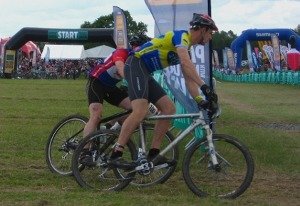 ITDev Bike Club competed in Original Source Mountain Mayhem 09, the world's largest 24-hour mountain bike endurance race, to raise £858 for the Smile4Rich Appeal. Smile4Rich supports the Wessex Neurological Centre, based at Southampton General Hospital.
This year's Mountain Mayhem race was held at the picturesque Eastnor Castle deer park, near Ledbury in Herefordshire. Each 8.75 mile lap covered 1,272 feet of climbing over challenging terrain. The race saw 2,351 riders and an estimated 15,000 spectators.
ITDev runs the cycling club for its employees, friends and family. The first team comprising Steve Dwyer, Tim Culmer, Jason Anderson and Tom Baker completed 22 laps, and finished 89th out of 228 in the Sport Men category. The second team: Bruce Mitchell, Andy Culmer, Steve Goodman and Phil White, also achieved a respectable result, completing 19 laps.
Bruce Mitchell, ITDev's Managing Director said: "Mountain Mayhem is an amazing event. Everybody who competed put in a superb effort, and did a great job in raising so much money for a good cause."
Andy Culmer, ITDev's Engineering Director added: "ITDev organises a number of sports and social activities for its staff, including cycling, climbing, and rollerblading. The activities are great for building bonds between team members, and for keeping the motivation and energy levels high at work."
The Wessex Neurological Centre treats approximately 4,000 inpatients and 13,000 outpatients a year. Just a few of the conditions that are treated are Brain Tumour, Brain Injury, Stroke, Alzheimer's, Epilepsy, Spinal Injury, Brain Haemorrhage, Hydrocephalus, Motor Neurone Disease, Sleep Disorders and Dementia.
The money raised will go towards sponsoring pioneering research into new treatments for a variety of neurological conditions, and providing new equipment and facilities.
The Smile4Rich Appeal organises a number of events during the year. One of their highlights, the Smile4Rich Gala Dinner, is being held at the NV Cabaret Lounge in Southampton on Friday 16th October. If you're interested in finding out more about the charity and their events, then check out their web site: www.smile4wessex.org.