News posted 15th February 2019

Following our company tradition, we recently donated the proceeds from our staff-run tuck shop to our nominated charity, Winchester Churches Nightshelter. This takes place bi-annually and after a good couple of years of munching through chocolate and snack bars, we raised a 'healthy' £140. This was matched by ITDev, bringing the total donation to £280.
Charities are nominated by staff and then a final selection is made through a staff poll which takes place at our monthly meeting. Nominations are currently open for new charities with the final decision to be made at our next monthly meeting.
Winchester Churches Nightshelter (WCN) was suggested by one of our engineers who knows about the vital support and help the charity provides to the homeless in our local area.
Andy Culmer, our Engineering Director, handed over the donation to WCN during the charity's Open Day on 26th January. This was a great opportunity to learn more about the charity; meet the staff and volunteers involved; and see the facilities and support available.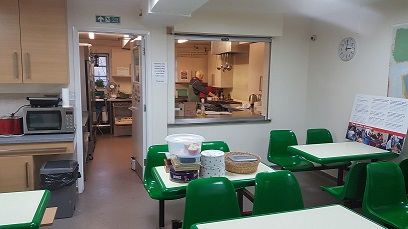 In their 'Thank you' letter to ITDev, Michele Price, Manager of the shelter, explained: 'Our residents receive nutritious food and quality temporary accommodation but, equally important, vital support services to help them get their lives back on track. Our sincere thanks to everyone involved in the donation. It is much appreciated and valued by our residents and staff.'