News posted 11th January 2010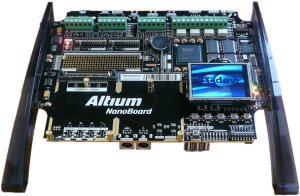 ITDev has chosen Altium Designer as its primary solution for hardware design. Altium's product offers a unified design platform, integrating PCB, FPGA and embedded software development within a single tool. This allows ITDev's engineers to implement designs more efficiently and with better optimisation across PCB, IC and software boundaries.
In addition to the purchase of software, ITDev has also taken delivery of one of Altium's Nanoboard 3000 prototyping platforms. The Nanoboard consists of a Xilinx Spartan FPGA connected to an impressive array of peripheral devices, including a colour touch screen and standard interfaces such as Ethernet, USB and SVGA. Also included is a collection of royalty-free IP (intellectual property) to further support rapid development of prototypes and their further development into finished products.
ITDev is excited at the opportunities presented by these new tools and has already made use of them on customer projects.
"We believe that our breadth of experience covering software, IC and PCB design is key to our success. An ever increasing number of products require skills in all three areas. We find that attention to these boundaries results in better products and shorter time to market. It's great to see that Altium are thinking along the same lines."
Andy Culmer, Engineering Director