News posted 1st August 2013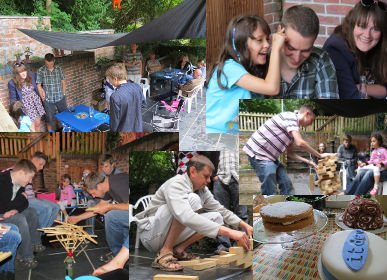 Sunday 18th August saw another successful ITDev summer party. Employees were joined by friends and family for a day of fun, games and large quantities of homemade chilli. This year's party was held in Winchester at the home of ITDev's Engineering Director, Andy Culmer.
The weather was mixed, but we put our engineering skills to good use and constructed a surprisingly effective rain shelter from a very large groundsheet and some rope. The rain also didn't put a stop to the games, with both children and adults taking part in a treasure hunt quiz and games, including the highly popular "Corbelling Challenge", or the "Build the Biggest Overhang with Giant Jenga Blocks Challenge" as it was known before our vocabulary was expanded by Paul Nickson, our business coach, who also joined us for the afternoon!