News posted 15th July 2021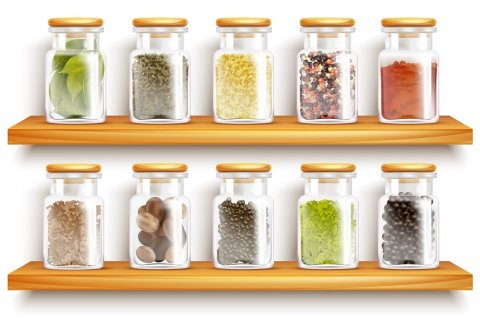 Our range of client projects
Our engineers often feedback that one of the reasons they enjoy working at ITDev is the mix of projects they get involved in. Variety is the spice of life, as they say!
Norbert, one of our Electronics Engineers explains: 'One of the attractors to me about ITDev is that there is no end to the kind of projects you can work on.'
An example project is one we started in June which blends our experiences with Android, audio processing and firmware development. For this project we took an off the shelf XMOS reference board and modified the PCB and firmware to address our client's requirements. This approach typifies proof of concept projects, where we look to accelerate the development cycle by using Commercial-off-the-shelf (COTS) products to get a demo or first stage concept together. The client is then able to run tests, or demonstrate their idea to stakeholders for enabling next stage funding and developments.
For one of our long-term customers, we initiated a project for Android toolkit development, utilising our low-level understanding of Android and driver development to enable communications between a PC and their latest hardware.
Utilising our extensive experience with Continuous Integration, we're working with another client to improve their software development flow with a focus on enhancing their continuous delivery pipeline using Ansible.
Finally we're pleased to accept an extension for another 3 months to the SKAO software work, continuing the bridging phase activity until the project moves into the construction phase.
Our community on the Science Park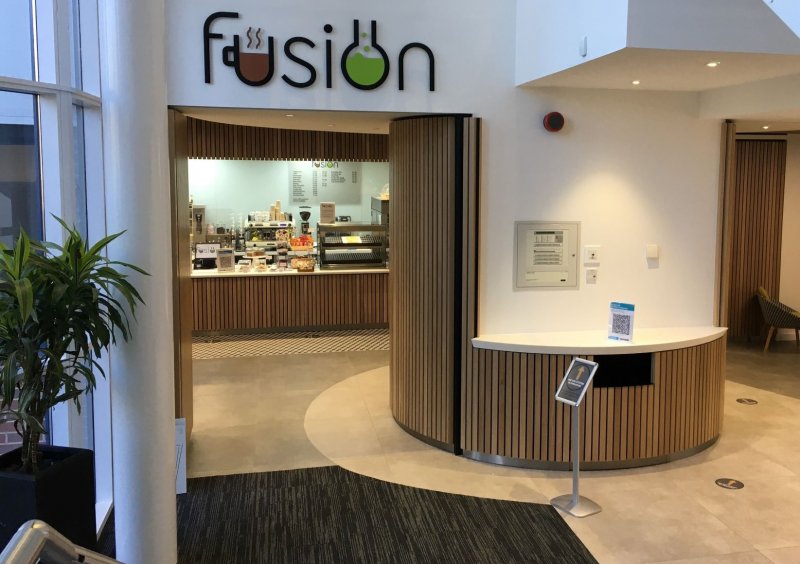 Since the beginning of the pandemic, we've had a skeleton staff working from our office on Southampton Science Park to keep an eye on hardware and equipment. Recently we've been hearing rumours from the office of sunny lunch-time walks around the leafy park and trips to the re-modelled café 'Fusion'. It's a lovely space to meet colleagues and network with our neighbours on the Park.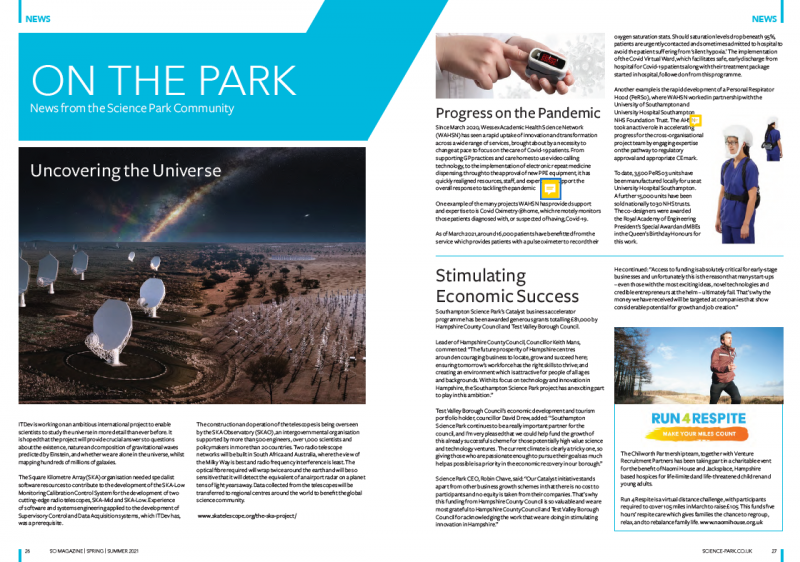 As part of the Science Park community, we have the opportunity to share business achievements via 'So', the Park's magazine. We're thrilled with our engagement with SKAO (Square Kilometre Array Observatory) and it's great to see our involvement being showcased in this publication as well as online.
In line with most businesses, our team has settled into a routine of working from home, accessing equipment remotely and communicating virtually. However, we're looking at our plans going forward and discussing what works best for individuals. A blend of home-working and office hot-desking is one option we'll be considering.
Recruitment
We're delighted to welcome senior software engineer, Andy Whittaker, to the team. Andy is experienced in embedded electronics and software for low power wireless data capture systems and real-time motion control systems. We're also pleased to welcome Dimitris Paparas. Dimitris was recruited through UKESF and will be with us for the summer working on our internal systems.
We have a number of open vacancies, so if you're looking for a new challenge and enjoy working on interesting and varied projects, take a look at our Careers page.
How can we help
Our team of software and hardware engineers are experts in their fields so whether you have a product development, innovation, technology consultancy, or design services challenge, we'd love to hear from you. Please get in touch. Initial consultations are free of charge.
Main image: Background vector created by macrovector - www.freepik.com