News posted 29th November 2012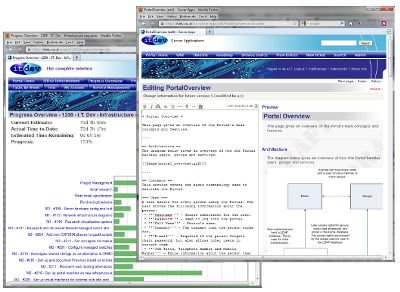 The ITDev Portal is a free service available to all ITDev customers, which makes it easy to collaborate with ITDev and other team members. The Portal brings together code hosting, project management, file sharing and communication tools in a well-integrated environment that is easy to use, efficient and secure. We have just released a new version with some significant enhancements...
Better Workflow
One of the most significant changes that we have implemented is that we have directly linked the tasks on a project to tickets in our Portal Trac sites. Project tasks are used by our engineers via our timesheet system to track where we spend our time and, in so doing, constantly improve the accuracy of our estimates. The integration of tasks with tickets offers a range of benefits, including...
Improved online documentation of task definitions
A full history of task refinements, progress and other associated information
More detailed tracking of timescale estimates, including a full history of changes
Comments associated with every estimate change, allowing the reasons for changes to be tracked and reviewed
Added Features
As part of the changes we have upgraded our Trac sites. The new version includes the ability to edit and preview wiki pages side-by-side and new features in ticket reports such as filtering and improved formatting. Another new feature is that users can now edit previous SVN commit messages from their SVN client. This allows errors to be corrected, but also retains a history of message changes so that historical information is never lost.
Reporting
There are more enhancements for clients who receive project progress emails from our team. We've improved formatting and other features of various reports and charts within the ITDev areas of the Portal. We hope this will allow our clients to assess the progress of their projects even faster and more easily, as well as improving the efficiency of our team in project management and reporting.
Faster
The upgrade includes hardware improvements too. Brand new servers mean that the Portal is now faster than ever.
Secure
At ITDev the security of our customers' data and intellectual property is always a priority. Throughout our Portal development we been careful to maintain a high level of testing using a variety of industry best practice techniques to ensure no bugs or security issues are introduced. We also continue to maintain our secure nightly off-site backup, disaster recovery plans and service monitoring.