News posted 21st April 2011
As we begin a new financial year, the UK economy appears to be continuing on its bumpy path out of recession. At ITDev, we're pleased to be able to say that we've weathered the storm well; remaining in profit, avoiding redundancies and pay freezes, and remaining entirely self-financed. We're also pleased that our customers have been gaining confidence, which is evident in the marked increase in the number of enquiries and project starts that we've seen over the past two quarters.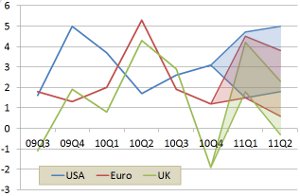 Annualised Quarter-on-Quarter Growth (%) for the USA, Euro area and UK
The latest analysis from the OECD, which includes growth predictions for the first two quarters of this year, forecasts continued growth for the UK, USA and the Euro-zone (Euro figures based on a weighted average of the three largest countries). Whilst this is encouraging, our chart above, which is based on OECD figures, illustrates the considerable uncertainty that remains.
As markets recover, the need to invest in new products is as high as ever, but whilst the pace of recovery remains uncertain, subcontracting presents a very attractive option. ITDev is keen to ensure that we're ready to help as many companies as possible as they continue to ramp up their R&D investment in the coming months. Two new engineers have joined our team so far in 2011 and we currently have a further vacancy for a software engineer.
If you are interested in joining our design team, then you can find more information on our Careers page.