This IP core performs the operations necessary to convert between SDR video and HDR video in either direction. The core can be loaded with industry recognised LUTs (look-up tables) to perform colour conversion between standards such as BT.709, BT.2100 & BT.2020. Optionally reconfigurable via AMBA® 4 AXI-Lite, the core can also be used to optimise colours within a video pipeline for broadcast monitors, projection systems, medical displays, AV over IP, etc.
Download the product brief for further information, including utilisation figures for AMD devices. For other targets, please contact us.
Product ID: 2214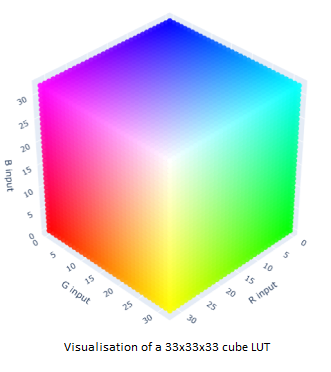 Features
Supports all common formats including 4Kp60
Less than one line of latency
Tetrahedral interpolation
Configurable LUT size
Works in AMD Vivado™ IP Integrator
Uses AMBA 4 AXI-Stream Video
Optional extensions include:
Pre/post colour space conversion tone correction LUTs
AMBA 4 AXI-Lite LUT reprogramming on the fly
Benefits
Easy to integrate using either RTL or AMD's block design flow, this highly configurable core delivers maximum functionality for minimum integration effort. Its tetrahedral interpolation provides faithful conversion resulting in high image quality. The core has been optimised for resource utilisation and timing closure, not only through efficient implementation but also through a carefully considered pipeline architecture.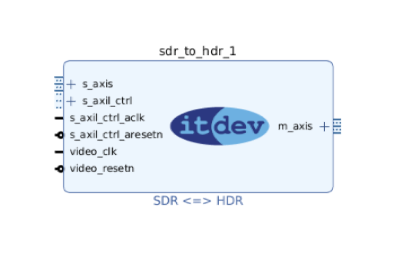 Deliverables
The following items are included in the delivery package
Encrypted RTL source code
AMD IP Integration package
Delivery testbench showing operation of conversion IP
ZCU104 Zynq™ HDMI SDR/HDR Demo design
Demo
A demonstration is available showing this IP up-mapping SDR content to HDR. This runs on a ZCU104 Zynq development board and uses AMD's HDMI 2.0 core to receive 4K60 input in RGB 24-bit format and output RGB in 30-bit.
In addition to the above, a downloadable demo for the Kria™ platform will be available soon.
To find out more about our SDR/HDR Colour Space Converter IP core, please contact us, or download the product brief.