Posted 30th June 2022, By Jon O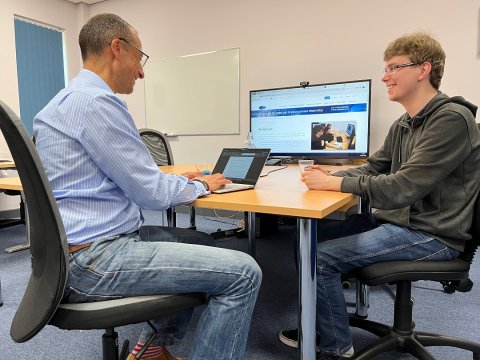 30th June and it's Matthew's 2 year anniversary of joining as a full-time member of staff.
Matthew spent 2 summers working for us as an intern before joining as a graduate in the summer of 2020.
Sitting down and having a chat with Matthew, I asked him to reflect on his experiences with ITDev since 2018 and these are his responses:
JO: You worked for 2 summers as an intern (2018 and 2019), did that influence you to join ITDev?
Matthew: During the two summers, I gained valuable knowledge of how to be a better software developer, improving my skills in areas that I already had some experience in, like writing and testing code, as well as areas that were new to me, like taking part in Scrum daily meetings, working together with the other interns, and performing code reviews. I found the experience rewarding, I was learning a lot, and I also found the team to be very welcoming, so it seemed natural for me to want to join ITDev after I completed my university degree.
JO: How has full time employment differed from the internships experience?
M: Once I joined full time, I was given the opportunity to work on client projects, rather than only internal projects from when I was an intern. This was a big change for me, since I now needed to keep clients updated with my progress, which could often involve directly interfacing with them. I found that the learning curve for client projects was steeper than for internal ones, but this enabled me to gain experience in even more new areas of software development. Fortunately, I never felt like there was huge pressure on me to meet any client deadlines.
[JO: In case there's any confusion here, Matthew was working towards client deadlines, but as with all our engagements, they are carefully managed to ensure reasonable expectations on both sides, resulting in timely deliveries for the client and less pressure on staff.]
JO: We have a few students joining us for this summer, is there any advice you'd like to pass on to the interns?
M: Don't be afraid to ask for help. There is a lot to learn when you're first starting as an intern and the learning curve can be steep. Take the opportunity to work out what areas of software development you enjoy and ask to be allocated to projects where you can gain experience in those areas. Finally, make sure you get to grips with version control and the concepts of feature branches, how to create review requests, and merging code back into the trunk as quickly as you can, since these things are fundamental to any software developer.
[Undergraduate tip: ITDev use both subversion and Git for version control and these are used widely in the software development community, so worth building experience in.]
JO: You joined during CV-19 and remote working how was that?
M: It was different to my experiences during my internships – while I found I could be relatively more productive working from home, due to less distractions being present, I also found that building relationships with my colleagues became more challenging. I was working with colleagues that I hadn't previously worked with during my internships, and while we still had daily meetings online, it just wasn't the same as having face-to-face contact. Also, now that I'm working in the office most of the time now, I find that it is comparatively easier to ask a quick question to a fellow colleague when I'm in the office, as well as doing things like pair programming, for example. So overall, I prefer working in the office, but I do still like working remotely. [JO: ITDev are continuing to operate a hybrid working policy. Each employee is able to choose their preferred time to be in the office, but also ensuring their presence for essential face to face meetings, e.g. project kick-offs, brainstorms, demos …]
JO: Any helpful points for those graduating this year on choosing a job?
M: If you can, finding a job where you're allowed and even encouraged to learn new technologies / programming languages / other skills as part of your job should be something for you to look out for. If you're not entirely sure of exactly what path you want to go down within the world of engineering, a job where you're able to explore different areas is also something to prioritise. Finally, other things to consider include whether you want to work for a small or large company – in my experience, the smaller the company, the less pressure you will likely face as part of the job application process and during your day-to-day job; if you want to have the option of working remotely; and what kind of salary and benefits you want.
Well thanks Matthew for that reflection on the last 2 years and an insight into your experiences.
If this has raised your interest in working for ITDev, take a look at our current vacancies, or drop us a line to register interest in any future internship or graduate opportunities.
For those interested in learning more about an ITDev internship we have blogs from Matthew, Claudine and Ben on their experiences and takeaways.