News posted 26th February 2019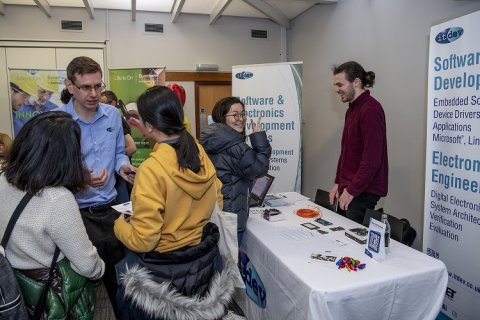 With further growth predicted this year, ITDev attended the University of Southampton's Engineering and Technology Careers Fair last month. This event has been running for over 10 years and plays an important role in introducing students to potential employers; ITDev was delighted to attend again this year.
With over 75 employers represented from a range of sectors, ITDev's Managing Director, Bruce Mitchell, and one of our graduate software engineers, Lucas, spent the day meeting and talking to students.
Bruce explained 'We had a great day at the fair, showcasing ITDev and meeting the undergraduates. We have some exciting graduate opportunities and we really enjoyed explaining these roles in person to the students.'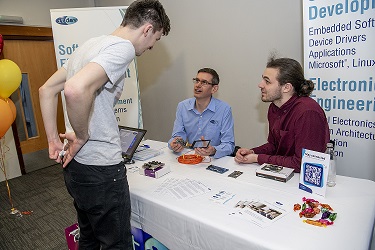 As a company affiliated to the Electronics and Computer Science department at Southampton, ITDev works closely with the university. Over the years, we have provided a number of mentoring sessions to undergraduates, providing feedback on CVs, how to prepare for interviews as well as mentoring on career choices. This continued engagement and support is very important to us, as is developing long-term relationships with both our employees and our clients.
If you would like to join our friendly, growing team, see our Careers page. We have several vacancies including a 1 year placement; a senior embedded software engineer; an FPGA Design Engineer; electronics and software interns; and graduate opportunities. However, if you are considering applying for the graduate opportunities, we are processing applications now for these positions - so be quick!
Photo credit: Jon Banfield