News posted 7th January 2019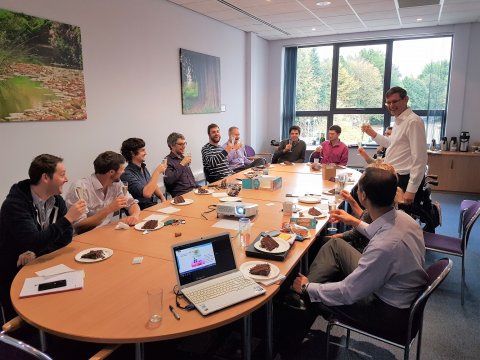 The ITDev team is thriving
As a values driven consultancy, our beliefs and attitudes are firmly embedded in our culture and we're proud that our staff demonstrate these values, creating a warm and friendly atmosphere here at ITDev. As testimony to this, we recently celebrated a number of staff anniversaries.
We're delighted to announce that in 2017, senior staff members, Matt, Head of Electronics Engineering, and Steve, Head of Software Engineering, celebrated their 10 year anniversaries. Both Matt and Steve joined ITDev as graduates and now run their own projects for their respective departments. Managing Director, Bruce Mitchell, and Engineering Director, Andy Culmer, together with the rest of the team were delighted to raise a toast to Matt and Steve and award them with their 10 year service gifts.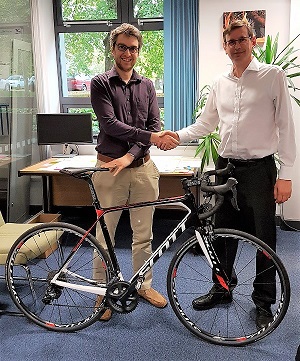 As a keen biker, Steve received a contribution towards a new road bike while Matt put his gift towards a digital piano.
Bruce explained: 'Continuous Professional Development and career development is vital to the growth of our company and it's great to see this is reflected in the progression from graduate to department manager for both Steve and Matt.'
Last year we celebrated three more milestones with Ross, Kris and Rachel receiving their 5 year service awards. Celebrations included a team meal followed by an informal awards ceremony. Gifts ranged from National Garden scheme vouchers to sponsoring a latrine in a deprived area of India and a deposit towards a wedding venue - congratulations to Kris will be forthcoming!
As a result of our continued growth, we were delighted to welcome Tom, in April, and Ben, last August, to the team. Both Tom and Ben joined us as graduate engineers and are working alongside our experienced engineers. Lucas and Orianne are the latest additions to the ITDev family. Lucas is working on our software design projects while Orianne is assisting with project management, marketing and recruitment.
Career Opportunities
As part of our growth strategy for 2018/19, we still have openings for graduate engineer positions. We're especially keen to receive applications from embedded software graduates. If you're interested in joining a small, friendly business with big aspirations, please contact us at jobs@itdev.co.uk and keep an eye on our ​careers pages for the latest openings.